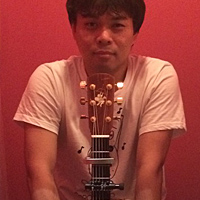 白戸秀明 / Hideaki Shirato

1984 

年

11

月

2

日生まれ

 

札幌出身

 

東京工業大学建築学科を卒業後、尚美ミュージックカレッジで作曲を学ぶ。

 

愛印入社後、ディレクター業務と平行して作家活動を開始。
2016年に手がけたグーグルジャパン「アンドロイド合唱団」はADFESTブランデッドコンテンツ&エンターテインメント部門でゴールドを受賞。
最近の主な作品としては、

2019

年、映画『

WE ARE LITTLE ZOMBIES

』、短編映画「最後の審判」、しまじろうのわぉ!の新オープニングや「ドドドド ドーナツ」
2021
年、
WOWOW
オリジナルドラマ「
FM999
999WOMEN
'
S SONGS
」、
ドラマ『死幽学旅行』がある。
CMのみならず、映画、ドラマ、舞台音楽など活動は多岐に渡る。
CM Works
Born on November 2, 1984 and raised in Sapporo.  
After graduating from Tokyo Institute of Technology with a BA in Architecture, Hideaki studied composition at Shobi College of Music.  
He then started his career at Aiin as a music director and composer.  
In 2016, he wrote and arranged music for Google Japan's project "Android Chorus", which was awarded Gold Prize at ADFEST / Branded Contents & Entertainment Category.  
His latest works include "WE ARE LITTLE ZOMBIES!!! (feature film, 2019)", "The Last Judgement" (short film, 2019), the new opening theme and "Do Do Do Do Doughnut" for the kids' TV show "Shimajiro: A World of WOW!" (2020), "FM999 999WOMEN'S SONGS" (WOWOW 2021) and "Shiyugaku Ryoko" (2021).  
In addition to commercials, Hideaki is active in many fields such as films, TV shows and theatrical productions.  
CM Works